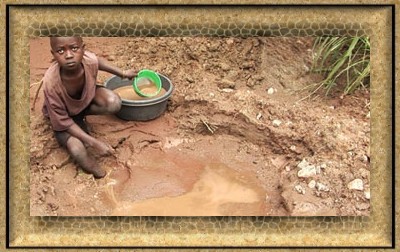 Water Aid
The Big Dig campaign brought clean water and sanitation to the communities of Bokola and Kaniche in Malawi for the first time.
The campaign, with every pound donated by the public matched by the UK Government from the aid budget, was the first of its kind for WaterAid. We expected to raise around £1.2 million but the final total was an incredible£2.25 million in matched funding.
We look forward to the next four years of the partnership which should see 1.1 million people gain access to safe water and 1.9 million with improved sanitation, and achieve our ambitious strategy in those countries.
Representatives from WaterAid also attended Africa Water Week in Cairo in May to call on developing country governments to commit to bringing water and sanitation services to 100 million more Africans, and to honour their commitments on water and sanitation.
From our country programmes...
WaterAid now has 27 country programmes who in 2011/12 empowered 1.6 million people with safe water and 1.9 million people with sanitation. It is impossible to capture all of their amazing work, but below are a few highlights:
o Ethiopia team supports groundwater monitoring:
Programme staff in Ethiopia have initiated a process of groundwater level and rainfall monitoring to help ensure a lasting supply of clean, safe water in drought-prone Konso
The aim of the initiative is to support communities and the local government to get the necessary information to manage water resources locally in Konso, a particularly dry region in southern Ethiopia.
o Supporting WASH provision to displaced communities in Mali:
WaterAid, in conjunction with Cluster UNICEF, CRS and Oxfam, conducted a rapid assessment of water, sanitation and hygiene services in displaced communities settled in Sévaré and Mopti in Mali following recent political unrest. WaterAid worked to help them access to safe water, hygiene and sanitation kits.
o Taking action to contain cholera outbreak in rural Nepal:
In 2012, a cholera outbreak swept across villages in Doti, far-western Nepal. WaterAid joined with other organisations in the area to develop a response plan and roll out social and media mobilization about diarrhoeal control.
WaterAid worked with the team to help raise awareness of diarrhoea control by releasing message through local and regional radio stations and through social media. Mobile phones are also being used to spread hygiene messages via text messages, and brochures and flyers are being produced for mass-distribution.
o Scaling up Water Point Mapping in Swaziland:
Following a successful pilot water and sanitation point mapping programme in Swaziland last year, WaterAid started to scale up the work across the country in 2012.
The launch of the next phase of the programme took place at the Ministry of Commerce, Trade and Industry in Swaziland on 2 August and was presided over by the Minister of Natural Resources and Energy, Princess Tsandzile.
Water Aid