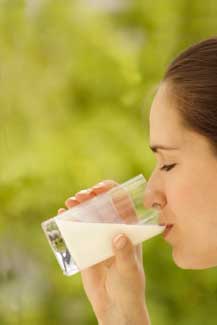 Should We Drink Milk?
Part 2
Cow's milk is not only an unnatural food for humans, it is unhealthful. John A. McDougall, M.D., calls dairy foods "liquid meat" because their nutritional contents are so similar. Rich in fat and cholesterol, diary products, including cheese, milk, butter, cream, yogurt, and whey contribute to the development of heart disease, certain cancers, and even osteoporosis.
The Dairy Industry and milk processors invest hundreds of millions of dollars each year to guarantee that Americans will continue to drink milk and eat dairy products. Over the years models, actors, actresses, sports heroes, and even presidents of the United States have posed for milk advertisements.
CALCIUM & OSTEOPOROSIS
We all need calcium. Every cell in our bodies needs calcium. Unfortunately common knowledge of osteoporosis is based upon false assumptions. American women have been drinking an average of two pounds of milk or eating the equivalent milk in dairy products per day for their entire lives. Drinking milk does not prevent osteoporosis. One of the most serious problems caused by a calcium deficiency is osteoporosis, a condition characterized by the loss of 50 to 75 percent of the person's original bone material. In the United States over 25 percent of 65-year-old women suffer from osteoporosis. Their bones become brittle and easily broken. They can crack a rib from something as minor as a sneeze. In order to absorb calcium, the body needs comparable amounts of another mineral element, magnesium. Milk and dairy products contain only small amounts of magnesium. Without the presence of magnesium, the body only absorbs 25 percent of the available dairy calcium content. The remainder of the calcium spells trouble. Without magnesium, excess calcium is utilized by the body in injurious ways. Osteoporosis and consumption of dairy products go hand-in-hand.
EXCESS PROTEIN IS WHAT CAUSES LOSS OF CALCIUM
What is it about excess protein that causes loss of calcium? Your kidneys, which were not made to handle more than ten percent of your calories as protein, especially after you are weaned, get rid of calcium as a reaction to excess protein in a process called"buffering." Your kidneys eliminate calcium through the urine. Too much protein also triggers the release of iron, magnesium, zinc, potassium, and many other minerals. It shouldn't surprise you to learn that people with high-protein diets get kidney stones, and vegetarians rarely do. The consensus among leading medical researchers is that the best way for people to increase their calcium level and strengthen their bones is to reduce their protein intake, and specifically to reduce consumption of animal products.
Research has conclusively shown we can do more to increase the calcium level in our bones by reducing protein intake than by increasing calcium intake. The reason is that animal products and other sources of high protein are very acidic, and the blood stream must balance this acidic condition by absorbing alkaline minerals such as calcium from the bone structure. Thus, numerous studies, including those published in the August 22, 1984 Medical Tribune and the March 1983 Journal of Clinical Nutrition, have found that vegetarians have much stronger bones than meat-eaters. The Journal of Clinical Nutrition article found that by age 65, meat-eaters had five to six times as much measurable bone loss as vegetarians.
SO, CALCIUM LOSS AND OSTEOPOROSIS ARE DUE TO 1) A HIGH-PROTEIN DIET, 2) INACTIVITY, 3) SMOKING, AND 4) EXCESS SALT.
WHERE DO YOU GET YOUR CALCIUM?
A few excellent sources for calcium are:
leafy greens, preferably raw salad. Dark green and dark yellow vegetables are loaded with calcium. Raw Almonds are a very good source. Go for all the dark greens and chalk up on calcium.
SOME UNHEALTHY CONTENTS IN MILK
ALL Cows' milk contains:  59 Active Hormones,  Scores of allergens, fat and cholesterol. MOST Cows' milk has measurable quantities of:  Herbicides,  Pesticides, dioxin (up to 2,200 times the safe level)  up to 52 powerful antibiotics, blood,  pus,  feces,  bacteria,  and viruses. Cow's milk can have traces of ANYTHING the cow ate. Cow's milk is allowed to have feces in it. This is a major source for bacteria. Milk is typically pasteurized more than once before it gets to your table… each time for only 15 seconds at 162 degrees Fahrenheit. To sanitize water, one is told to boil it (212 degrees F) for 10 minutes. That is a tremendous disparity, isn't it?
SOME OTHER PROBLEMS WRONG WITH DAIRY PRODUCTS:
Iron Deficiency. Iron deficiency is
more likely on a
dairy-rich diet.
Cows' milk products are very low
in iron, thus, if they become a major
part of one's diet, iron deficiency is
more likely. In addition, clinical
studies have shown that infants
consuming cows' milk lose small
amounts of blood from their digestive
tracts.


Diseased Milk. The greatest concern
with milk today is disease. Diseases
have been found to be conveyed by
milk taken from a diseased animal,
or by milk contaminated in a dairy.
Animals from which milk is obtained
are not always healthy. A cow may
be apparently well in the morning,
and die before night fall.


Teat Dips. Most factory dairies use
one of about sixty kinds of chemical
teat dips after each milking to reduce
the spread of mastitis (udder
inflammation) in their herds. There
is evidence that some of these dips
leave residues in the milk that may
be dangerous to humans.


and c
From Milk to Slaughterhouse. After
a few years of routine calf and milk
production, the cows' milk
productivity wants, and she is
sent to the slaughterhouse.
Because her carcass is not
good enough to produce steaks,
chops, and other choice cuts,
she usually ends up in the
hamburgers at one of the fast-
food chains.


Formaldehyde. A number of
dairies put formaldehyde as a
preservative into milk.
Formaldehyde is a chemical
used to embalm the dead.


Milk is High in Fat Content.
Dairy products — especially
whole milk, cream, butter,
and cheese are high-fat foods.
Innumerable studies link animal
products with the deposition of
saturated fats holesterol on the
artery walls. Cardiovascular
diseases take one out of every
two lives in America today.


Milk is indigestible for most
adults. Immediate distressing
effects are often experienced:
indigestion, gas, cramping, and
diarrhea. Over 75 percent of
the world's population cannot
digest milk. The body does not
secrete rennin and lactase after
about age 3. These enzymes,
respectively, break down the
casein, a calcium/protein
component of milk, and lactose,
the milk sugar.


Diabetes. Insulin-dependent
diabetes (Type 1 or childhood-
onset) is linked to dairy products.
Studies of various countries
show a strong correlation
between the use of dairy
products and the incidence
of insulin-dependent diabetes.


Ovarian Cancer. Ovarian cancer
is linked to dairy products. The
milk sugar lactose is broken
down in the body into another
sugar, galactose. In turn,
galactose is broken down
further by enzymes. According
to a study by Dr. Daniel Cramer
and his colleagues at Harvard,
when dairy product consumption
exceeds the enzymes' capacity
to break down galactose, there
is a build-up of galactose in the
blood, which may affect a
woman's ovaries. Some women
have particularly low levels of
these enzymes, and when they
consume dairy products on a
regular basis, their risk of
ovarian cancer can be triple
that of other women.


Cataracts. Cataracts are also
linked to dairy consumption.
The galactose that is a break
down product of lactose also
appears to damage the lens
of the eye, leading to cataracts.


Mucus. The mucus created by
dairy products causes other
problems as well. It is well-
known that dairy products
cause excessive mucus in
the lungs, sinuses and
intestines. It has been noted
that excess mucus in the
breathing passages contributes
to many respiratory problems
and that mucus hardens to
form a coating on the inner
wall of the intestines that
leads to poor absorption of
nutrients, which can cause
chronic fatigue. This mucus
also causes constipation.
Two very common problems
with infants are colic and ear
infections, both of which can
be caused by cows' milk.


Milk is one of the most common
causes of food allergies. The
American Academy of Allergy,
Asthma and Immunology reports
that cows' milk is the most
common food allergy amongst
children. Respiratory problems,
canker sores, skin conditions,
post nasal drip, and other subtle
and not so subtle allergies can
be caused by dairy products.
Cows' milk protein is the major
cause of gastrointestinal food
allergy in infants. Allergies are
common in children and food
allergies are no exception.
Actual milk or casein (milk
protein) allergies can manifest
themselves in several ways.
These symptoms include mouth
ulcers, diarrhea or constipation,
rectal bleeding, vomiting,
recurrent attacks of nasal re
congestion, skin rash, and
recurrent bronchitis.


Dairy products, like all other
animal products, do not contain
any fiber. The more dairy products
that one consumes, the less fiber
rich foods are eater. Fiber has
been shown to reduce your risk
of a variety of disease including
heart disease, stroke, and cancer.


Constipation. Consumption of
cow's milk is a very common
cause of constipation in people
of all ages. Young women regain
normal bowel habits by eliminating
milk, and on adding milk back to
the diet, constipation returns.
Elderly people who drink milk
developed constipation and
fecal impactions which were
treated by eliminating milk and
adding fruits and vegetables to
the diet for fiber. (Journal of
The American Medical
Association, October 28, 1974).
The constipating effects of cow's
milk formula have been known
for many years by pediatricians
and many mothers who noted
this in their infants.


Bedwetting. In one study,
investigators reported that
50% of 100 children studied
stopped bedwetting when milk
was moved from the diet. These
researchers speculated that
milk acts on the inhibitory center
of the brain stem to lower the
voiding reflex threshold. (Clinical
Trends in Family Practice,
September – October, 1978).


Vitamin D in milk. Vitamin D in
milk and in milk by-products
(ice cream, cheese, cottage
cheese, butter, and skimmed
milk) is causing a number of
problems in individuals sensitive
to nightshade plants. Symptoms
include spur developing on bones,
fuzzy sight, ear and nose channels
closing, muscles giving way in legs,
difficult urination in males, sore
inflamed joints, and other problems,
plus "just an over-all feeling bad."
Vitamin D3 is actually a steroid
hormone that is synthesized from
the action of sunlight on our skin.
However, when you see vitamin
D3 on a product label it comes
from sheepskin but some of it
actually comes from pigskins
and even fish brains. Vitamin
D3 was used in certain areas
to kill mice and rats because
it causes an excretion of calcium
from their bones. So there is a
very fine line here. It's very hard
to live in America and not get
enough vitamin D3. You need
10 minutes of sunlight once
every three days to satisfy and
manufacture the vitamin D that
you need. You don't need to get
it by consuming animal products.
And as many nutritionists have
noted, unless it's in your blood-
stream first, it's just not absorbed.
SOME MORE FACTS ABOUT DAIRY
"There is one thing dairy products have
more of than any other food I can think of: CONTAMINATION." —John A. McDougall,
M.D.
"Cultures with the highest milk
consumption have the highest
osteoporosis rates, a disease
rarely found in non-milk-drinking
cultures." —Hans Diehl, Dr. HSc.
Feeding cow's milk to infants
poses several "nutritional hazards,
including gastrointestinal blood loss,
and copper and zinc deficiency. Even
though zinc concentrations are higher
in cow's milk than human milk, the zinc
in human milk may be easier for humans
to assimilate than the zinc in cow's milk
or infant formulas. —Pediatrics
1981;68:394-397; Journal of Pediatrics
1981:98:540; Nutrition and the MD 1983
May. dairy products
Babies who are fed whole cow's

milk during the second six months
of life may experience a 30%
increase in intestinal blood loss
and a significant loss of iron in
their stools. —Pediatrics
1992;89(6):1105-1109

Drinking cow's milk may weaken
immune function in children and
lead to problems with recurring
infections. —Nature 1978;272
(5654):632

A young age at introduction of
dairy products and high milk
consumption during childhood
may increase the child's risk of
developing juvenile diabetes.
—Diabetologia 1994;37-(4):381-387.

An estimated 50 million Americans experience intestinal discomfort
after consuming . Symptoms include
bloating, stomach pain, cramps,
gas, or diarrhea. —Postgraduate
Medicine 1994;95(1):113-120.

Milk and many components of milk
(butterfat, milk protein, calcium from
milk, and riboflavin)…were positively
related to coronary heart disease
mortality for all 40 countries studied.
—Circulation 1993;88(6):2771-2779.
Fruits, vegetables and nuts are good
sources of boron, which helps stop
calcium loss in the body. Because milk
is low in boron and high in phosphorus
and protein, it is not a good osteoporosis-
fighting food. —Dr. Forrest H. Nielsen,
USDA, in Nutrition Today Jan/Feb
1988;4-7.
Dairy products may play a major
role in the development of allergies,
asthma, sleep difficulties, and migraine
headaches. —Israel Journal of Medical
Sciences 1983:19(9):806-809.
Katy Chamberlin
References:
Cohen, Robert, Milk The Deadly Poison,
Argus Publishing, Inc. Englewood Cliffs,
NJ.
McDougall, John A. M.D., and Mary A.
McDougall, The McDougall Plan, New
Century Publishers, Inc., pp. 49-51.
Robbins, John, Diet for a New America,
Stillpoint Publishing, 1987, p. 300.
Oski, Frank A., M.D., Don't Drink Your
Milk!, Molica Press, Ltd. Syracuse, NY.
Douglass, William Campbell M.D., The
Milk of Human Kindness is Not Pasteurized,
Last Laugh Publ., Marietta, Georgia.
Hulse, Virgil, M.D., Mad Cows and Milk
Gate, Marble Mountain Pub., Phoenix,
OR.
Nedley, Neil, M.D., Proof Positive,
Ardmore, OK, 73401.
Diamond, Harvey & Marilyn, Living
Health, Warner Books, Inc, NY, 10103.