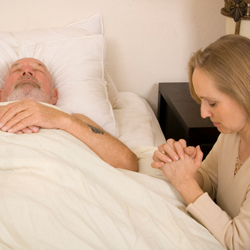 The Source Of Healing
"Sickness, suffering, and death are work of an antagonistic power. Satan is the destroyer; God is the Restorer.
The words spoken to Israel are true today of those who recover health of body or health of soul: "I am the Lord that healeth thee."
The desire of God for every human being is expressed in the words, "Beloved, I wish above all things that thou mayest prosper and be in health, even as thy soul prospereth."
He it is who "forgiveth all thine iniquities; who healeth all thy diseases; who redeemeth thy life from destruction; who crowneth thee with loving-kindness and tender mercies."
The Great Healer
God's healing power runs all through nature. If a human being cuts his flesh or breaks a bone, nature at once begins to heal the injury, and thus preserve the man's life. But man can place himself in a position where nature is trammeled so that she cannot do her work. . . . If tobacco is used, . . . the healing power of nature is weakened to a greater or less extent. . . . When intoxicating liquor is used, the system is not able to resist disease in its original God-given power as a healer. It is God who has made the provision that nature shall work to restore the exhausted powers. The power is of God. He is the Great Healer.
A Combined Work
The sick are to be healed through the combined efforts of the human and the divine. Every gift, every power, that Christ promised to His disciples, He bestows upon those who will serve Him faithfully.
The Holy Spirit Renews the
Body
Sin brings physical and spiritual disease and weakness. Christ has made it possible for us to free ourselves from this curse. The Lord promises, by the medium of truth, to renovate the soul. The Holy Spirit will make all who are willing to be educated able to communicate the truth with power. It will renew every organ of the body, that God's servants may work acceptably and successfully. Vitality increases under the influence of the Spirit's action. Let us, then, by this power lift ourselves into a higher, holier atmosphere, that we may do well our appointed work.
The Best Medicine
The religion of the Bible is not detrimental to the health of the body or of the mind. The influence of the Spirit of God is the very best medicine that can be received by a sick man or woman. Heaven is all health; and the more deeply the heavenly influences are realized, the more sure will be the recovery of the believing invalid.
What the Physician Attempts,
Christ Accomplishes

None but a Christian
physician can discharge to God's acceptance the duties of his profession. In a work so sacred, no place should be given to selfish plans and interests. Every ambition, every motive, should be subordinate to the interest of that life which measures with the life of God. In all your business, let the claim of Jesus, the world's Redeemer, be recognized; let His example be copied. What the physician attempts to do, Christ can accomplish. They strive to prolong life; He is the Life-giver. Jesus, the Mighty Healer, is Physician in chief. All physicians are under one Master, and blessed indeed is every physician who has learned from his Lord to watch for souls while with all his professional skill he works to heal the bodies of the suffering sick.
Education Better Than
Miraculous Healing
Some have asked me, "Why should we have sanitariums? Why should we not, like Christ, pray for the sick, that they may be healed miraculously?" I have answered, "Suppose we were able to do this in all cases; how many would appreciate the healing? Would those who were healed become health reformers, or continue to be health destroyers?"
Jesus Christ is the Great Healer, but He desires that by living in conformity with His laws we may cooperate with Him in the recovery and the maintenance of health. Combined with the work of healing there must be an imparting of knowledge of how to resist temptations. Those who come to our sanitariums should be aroused to a sense of their own responsibility to work in harmony with the God of truth.
We cannot heal. We cannot change the diseased conditions of the body. But it is our part, as medical missionaries, as workers together with God, to use the means that He has provided. Then we should pray that God will bless these agencies. We do believe in a God; we believe in a God who hears and answers prayer. He has said, "Ask, and ye shall receive; seek, and ye shall find; knock, and it shall be opened unto you."
When Prayer for Healing Is
Presumption
Many have expected that God would keep them from sickness merely because they have asked Him to do so. But God did not regard their prayers, because their faith was not made perfect by works. God will not work a miracle to keep those from sickness who have no care for themselves, but are continually violating the laws of health and make no efforts to prevent disease. When we do all we can on our part to have health, then may we expect that the blessed results will follow, and we can ask God in faith to bless our efforts for the preservation of health.
He will then answer our prayer, if His name can be glorified thereby. But let all understand that they have a work to do. God will not work in a miraculous manner to preserve the health of persons who are taking a sure course to make themselves sick, by their careless inattention to the laws of health.
Those who will gratify their appetite, and then suffer because of their intemperance, and take drugs to relieve them, may be assured that God will not interpose to save health and life which are so recklessly periled. The cause has produced the effect. Many, as their last resort, follow the directions in the word of God, and request the prayers of the elders of the church for their restoration to health. God does not see fit to answer prayers offered in behalf of such, for He knows that if they should be restored to health, they would again sacrifice it upon the altar of unhealthy appetite.
Provision for Gospel Medical
Missionary Work
The way in which Christ worked was to preach the word, and to relieve suffering by miraculous works of healing. But I am instructed that we cannot now work in this way; for Satan will exercise his power by working miracles. God's servants today could not work by means of miracles, because spurious works of healing, claiming to be divine, will be wrought.
For this reason the Lord has marked out a way in which His people are to carry forward a work of physical healing combined with the teaching of the word. Sanitariums are to be established, and with these institutions are to be connected workers who will carry forward genuine medical missionary work. Thus a guarding influence is thrown around those who come to the sanitariums for treatment.
This is the provision the Lord has made whereby gospel medical missionary work is to be done for many souls. These institutions are to be established out of the cities, and in them educational work is to be intelligently carried forward.
Miracles Not a Sure Evidence
of God's Favor
The time is at hand when Satan will work miracles to confirm minds in the belief that he is God. All the people of God are now to stand on the platform of truth as it has been given in the third angel's message. All the pleasant pictures, all the miracles wrought, will be presented in order that, if possible, the very elect shall be deceived. The only hope for anyone is to hold fast the evidences that have confirmed the truth in righteousness. Let these be proclaimed over and over again, until the close of this earth's history.
R.H., Aug. 9, 1906.
MM 11-14