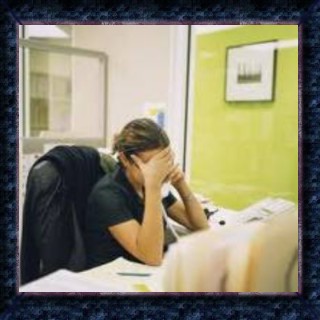 Stress
In this world every person is faced with the fact that a literal battle is going on between the angels of God and the angels of the devil over the souls of men. Most of the people have their life completely under the control of Satan because he has them thinking it does not matter how they live and what they do, just do as you please. So these people the devil is not worried about losing. But when someone starts calling on the name of Jesus for help and guidance and victory over the devil, then he is furious and puts up a bigger resistance to keep the good angels away. As long as we are in this world this stressful battle will be raging.
There are no two minds that are thinking exactly alike. It doesn't matter who you talk to there are going to be contradictions and disagreements to one degree or another whether it be in words or just in actions or looks. Everyone has their own ideas and its always better than the other person. The main thing is to come in line with the Word of God in the life and stand up for Jesus in all circumstances then its easier to meet the varied situations that are met. We are not going to get rid of all the stress as long as we are in this world when someone else has another idea, maybe similar but still different from ours.
Our peace of mind and relaxation comes just to know we are obeying the Lord in all He says. This is when the extra stress lets up and we rest in the Lord.
We have to recognize what the people of God went through over the last six thousand years. The true people of God did not have a bed of roses. Their life was hard work and resisting the powers of darkness and many times in literal battle. They faced imprisonment and even death in many ways. You would not call this a life without stress while serving the Lord. But amidst the trials, the faith is strong and the mind is at peace with God.
Jesus is an example of having peace of mind in the middle of great trial beyond what we will be called to bear. But the same strength he had is promised to us to get through all the difficulties and stressful life in this world when we obey Him completely.
-------------------------------------
"In the daily life you will meet with sudden surprises, disappointments, and temptations. What saith the word? "Resist the devil," by firm reliance upon God, "and he will flee from you. Draw nigh to God, and He will draw nigh to you." "Let him take hold of My strength, that he may make peace with Me; and he shall make peace with Me." Look unto Jesus at all times and in all places, offering a silent prayer from a sincere heart that you may know how to do His will. Then when the enemy comes in like a flood, the Spirit of the Lord will lift up a standard for you against the enemy. When you are almost ready to yield, to lose patience and self-control, to be hard and denunciatory, to find fault and accuse--this is the time for you to send to heaven the prayer, "Help me, O God, to resist temptation, to put all bitterness and wrath and evil speaking out of my heart. Give me Thy meekness, Thy lowliness, Thy long-suffering, and Thy love. Leave me not to dishonor my Redeemer, to misinterpret the words and motives of my wife, my children, and my brethren and sisters in the faith. Help me that I may be kind, pitiful, tenderhearted, forgiving. Help me to be a real house-band in my home and to represent the character of Christ to others."
AH 214
It's time to take some moments in nature with our Creator and reflect on His greatness and forgiveness. To be alone with God and let Him speak to the mind. Some main causes of stress—
Jobs
Financial Problems
Personal Relationships
Children
Daily hassles
Being Too Busy
Poor Diet
Loss Of Sleep
Loss Of Loved One
Lack Of Trust In God
Poor Health Or Sickness
Irregular lifestyle