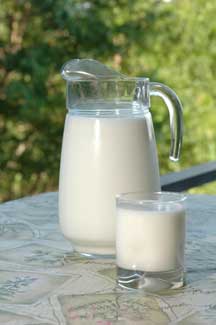 Should We Drink Milk?
Part 1
"Animals from which milk is obtained are not always healthy. They may be diseased.
A cow may be apparently well in the morning,and die before night. Then she was diseased in the morning, and her milk was diseased, but you did not know it. The animal creation is diseased."
Counsels on Diet & Foods
p 356-357
POWERFUL HORMONES
"Every sip of milk has 59 different powerful hormones. Which ones do you want your little girls to take? Estrogen, progesterone or prolactin?" —Robert Cohen, Not Milk web-site.
WE'VE BEEN TAUGHT FROM OUR EARLIEST MEMORY THAT WE NEED MILK
Milk! Just the word itself sounds comforting!
We are a nation of milk drinkers. Milk was our very first food, and if we were fortunate it was our mother's milk. Most of us have been taught from early childhood that milk is the "perfect food," which everyone should drink every day. However, should milk constitute an integral part of the diet after weaning? Is milk a normal food for adults? Many of us drink a lot of milk each year. Some folks even drink several hundred gallons a year not including the many pounds of "dairy products" such as cheese, butter, and yogurt that is consumed. Can anything be wrong with this? Dieticians and nutritionists tell us that dairy products make up an "essential food group." Industry spokesmen make sure that colorful charts proclaiming the necessity of milk and other essential nutrients were made available at no cost for schools. Cow's milk became "normal." So, the question is, do we really need dairy products for optimal health?
FALSE PROMISES
Why is there so much fear propagated about not drinking milk or eating dairy products? The milk myth has been created by the dairy industry's intense lobbying. The fact is, during most of our kindergarten and grade school years, nutrition teaching aids were supplied by the National Dairy Council. As a result, all children including the parents and teachers, to the doctors, lawyers and Congressional representatives, grew up thinking that milk is wholesome and necessary for strong bones and teeth. Never mind that milk wasn't a consumer product before the agricultural revolution many years ago, and still isn't by 75% of the world population.
TODAY'S COW IS A PERPETUAL MILK MACHINE
The modern cow is a perpetual milk machine.
A few hundred years ago, a cow gave approximately 200 pounds of milk in a year. Fifty years ago an average cow produced 2,000 pounds of milk per year. Today, the top producing modern cow gives more than 50,000 pounds. And this over production is causing more diseases in cows (as well as in humans). In fact, the largest percentage (89%) of cows has bovine leukemia virus. The cow was never intended to give 75 times the amount of milk that it was originally created to give. Milk is a very delicate substance, interrelated to almost every gland and organ of the cow's body. It was meant as a normal function of the animal as it was creating life. All of the best elements in its body must be assembled to make milk, so that the calf can have a good start.
COW'S MILK IS DESIGNED TO TURN A 65 LB BABY CALF INTO A 400 LB COW
Doctor Michael Klaper stated: "It's not natural for humans to drink cow's milk. Human milk is for humans. Cow's milk is for calves… Cow's milk is a high fat fluid exquisitely designed to turn a 65 pound baby calf into a 400 pound cow. That's what cow's milk is for."
THE MILK OF EVERY SPECIES OF MAMMAL IS UNIQUE
The milk of every species of mammal is unique and specifically tailored to the requirements of that animal. For example, cow's milk is much richer in protein than human milk, three to four times as much.
It has five to seven times the mineral content. However, it is markedly deficient in essential fatty acids when compared to human mothers' milk. The human milk has six to ten times as much of the essential fatty acids, especially linoleic acid.
MILK IS A CHEMICAL COCKTAIL
Any lactating mammal excretes toxins through her milk. This includes antibiotics, pesticides, chemicals and hormones. Also, all cows' milk contains BLOOD! The inspectors are simply asked to keep it under certain limits. The bottom line is milk is a chemical, biological, and bacterial cocktail — a cocktail that is best left alone!
AND WHAT IS THE DIET OF THE MODERN COW?
What does the modern cow eat? Most of us have been led to believe that "Bossy the Cow" just eats grass. Nothing could be further from the truth! "Hoard's Dairyman" (The Dairy Farmers Magazine, March, 2002) wrote up the menu of a dairy cow's diet, which include chicken feathers, blood, pork, fish, and soybeans just to mention a few diet items.Nearly seventy-nine percent of cows are fed sodium bicarbonate. Greater than half of the cows in America receive selenium, yeast, and magnesium oxide.
THREE OUT OF FIVE DAIRY COWS HAVE THE BOVINE LEUKEMIA VIRUS
Leukemia? Lymphoma? The bovine leukemia virus is found in more than three out of five dairy cows in the United States! This involves about 80% of the dairy herds. When the milk is pooled, a very large percentage of all milk produced is contaminated (90 to 95 per cent). We are told that the virus is killed in pasteurization — if the pasteurization was done correctly. This is a world-wide problem. One lengthy study from Germany deplored the problem and admitted the impossibility of keeping the virus from infected cows' milk from the rest of the milk. Several European countries, including Germany and Switzerland, have attempted to "cull" the infected cows from their herds. Certainly the United States must be the leader in the fight against leukemic dairy cows, right? Wrong! We are the worst in the world with the former exception of Venezuela according to Virgil Hulse MD, a milk specialist who also has a B.S. in Dairy Manufacturing as well as a Master's degree in Public Health.
DAIRY STATES ARE KNOWN TO HAVE HIGHER INCIDENCES OF HUMAN LEUKEMIA
Iowa, Nebraska, South Dakota, Minnesota and Wisconsin have statistically higher incidence of leukemia than the national average. In Russia and in Sweden, areas with uncontrolled bovine leukemia virus have been linked with increases in human leukemia. Dairy farmers have significantly elevated leukemia rates.Other cancers — does it get worse? Unfortunately it does.
LUNG CANCER —
has even been associated with milk ingestion. The beverage habits of 569 lung cancer patients and 569 controls at Roswell Park were studied in the International Journal of Cancer, April 15, 1989. Persons drinking whole milk 3 or more times daily had a 2-fold increase in lung cancer risk when compared to those never drinking whole milk.
PROSTRATE CANCER —
Men who reported drinking three or more glasses of whole milk daily had a relative risk of 2.49 compared with men who reported never drinking milk. The evidence appears to favor the hypothesis that animal fat is related to increased risk of prostate cancer.
Katy Chamberlin